FOR IMMEDIATE RELEASE April 30, 2014 BEKINS A-1 MOVERS, BEKINS MOVING SOLUTIONS HELP FEED THE...
BEKINS VAN LINES, INC. AWARDS BEKINS A-1 MOVERS, INC. OWNER-OPERATOR WITH MAY INTERMITTENT DRIVER OF...
FOR IMMEDIATE RELEASE March 6, 2013 Contact: Bob Dalaskey Vice President of Corporate Sales Bekins...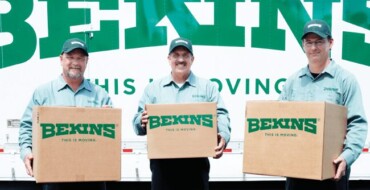 June 20, 2012 FOR IMMEDIATE RELEASE BTS LOGISTICS, INC. ANNOUNCES ACQUISITION OF BEKINS TRADESHOW SERVICE...